International Recognition
Established in 2002, at Aikido by the Bay we practice Iwama Aikido as it was taught by the Founder at his dojo in Iwama, Japan. Aikido By the Bay instructors are certified and have studied as live-in students (uchi deshi) at the Aikido Founder's dojo in Iwama, Japan under Morihiro Saito Shihan, 9•Dan.
Aikido by the Bay is a member dojo of the TAA 'Takemusu Aikido Association' in the USA. Dan test & kyu test requirements are certified by the TAA and dan certificates are issued by the Aikido International Headquarters in Japan. Furthermore, higher dan tests are supervised by Bill Witt Shihan, 8•Dan.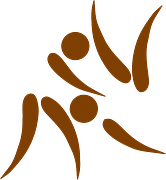 Classes first begin with a warm up routine that consists of a series of stretches and light rolls. Daily stretches prepares the body for safe work and has long lasting benefits. Furthermore, it helps students get focused for practice. During class we practice taking falls, throws, joint-locking, striking and pinning techniques, we also work with traditional Japanese weapons such as the boken (wooden sword), jo (staff) and knife (tanto). A good Aikido workout engages the entire body and provide an effective workout. Aikido is traditionally practiced in pairs and can be done softly / gently or vigorously, depending on the student's level of fitness and experience.
Read MoreRead Less
Group classes and private lessons are available. In addition to learning the complete Aikido open-handed curriculum, Iwama style Aikido includes the combined study (riai) of traditional Japanese weapons (bukiwaza), specifically Aiki-jō (staff) and Aiki-ken (sword), and of empty-handed aikido(taijutsu), both accompanied by kiai.
Daily morning and evening classes are scheduled at Aikido By the Bay in San Mateo. Evening adult classes from Monday to Friday at the Basel Dojo in Switzerland. Private lessons also available on request. See available classes and schedule HERE ›
.

Conflict Management & Coaching
Our coaching sessions provide the tools necessary to identify and manage verbal and non-verbal conflict. Aikido teaches how to avoid colliding with conflict. The same principle can be applied verbally, students are taught how to apply Aikido principles during verbal conflict and learn how recognize and address a multitude of behaviors and stages of conflict with realistic and practical interventions.
Our staff bring decades of Martial Arts experience and they all share a common passion for Aikido and teaching. Our goal is to inspire students young and old, and lead them through the path of continuous self-improvement.
To enhance our community and its citizens through the positive personal development skills of our training.
To provide a safe haven of positive energy and support for our students's mental and physical growth.
To provide inspiration of personal excellence through our example as Black Belts both in and out of the dojo.
To ensure the long-term growth of the dojo and its staff by providing exemplary student service.
Daniel Brasse
Daniel is currently living in Basel, Switzerland with his family where he recently opened a branch of Aikido By the Bay. Daniel travels regularly to the San Mateo dojo to teach classes.  MORE >
Jason Yim
Lead Instructor, San Mateo Dojo
Jason Sensei is currently the lead instructor at Aikido By the Bay San Mateo branch and is Chief Instructor and Co-founder of Mill Valley Aikido. Previously, he was Chief Instructor and Founder of GG Aikido.
David Yoshinaga
Instructor
4• Dan, Fukushidoin
George Lane
Instructor
2• Dan, Fukushidoin
Alfred Sung, DC
Instructor, Kids Program
Dojo Manager